Metal Carport & Loafing Shed
A Metal Carport is an affordable alternative to a complete garage in Hudson CO. Manufactured with pre-engineered galvanized steel they are the perfect solution for covering vehicles, farm equipment, RVs, boats, ATVs, large vehicles, or other items that need to be protected from the sun, rain, ice, and snow. We also offer loafing sheds and storage sheds.
The professional team at Farm & Home Lumber is here to help you create the perfect metal carport for your home or business! We offer you the best quality products and professional craftsmanship. Our experts can help with special sizes, add-ons, and other options.
Call us at (303) 536-4715 or submit an online request for more information on our metal carport offerings in Hudson CO.
STANDARD CARPORT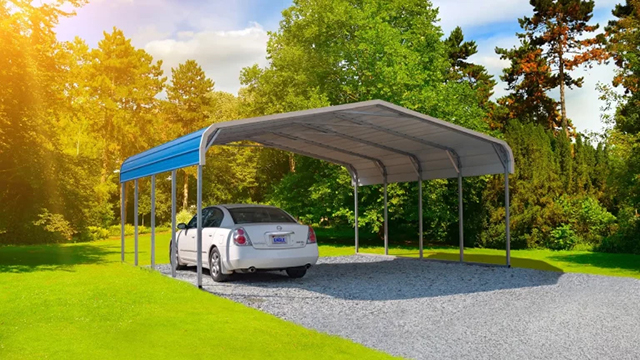 ENCLOSED CARPORT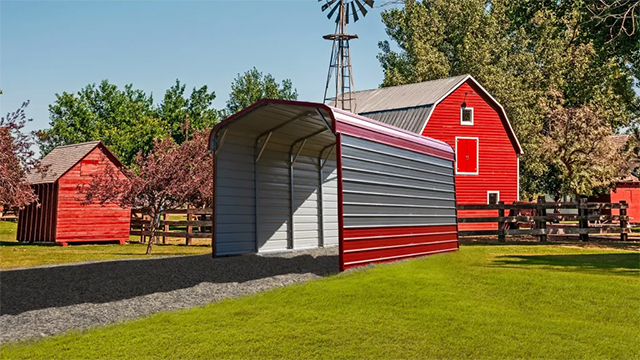 LOAFING SHED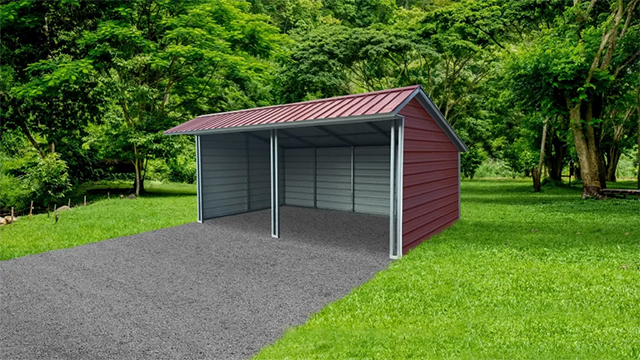 COMMERCIAL GRADE CARPORT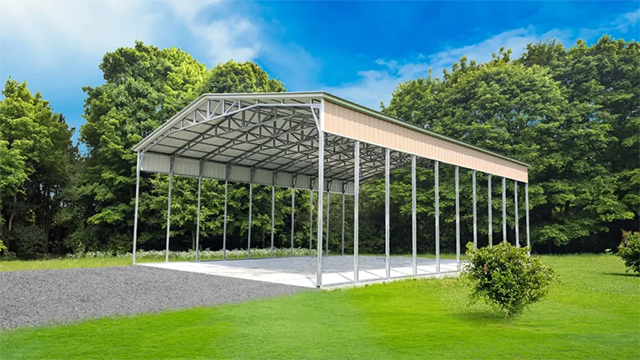 RV CARPORT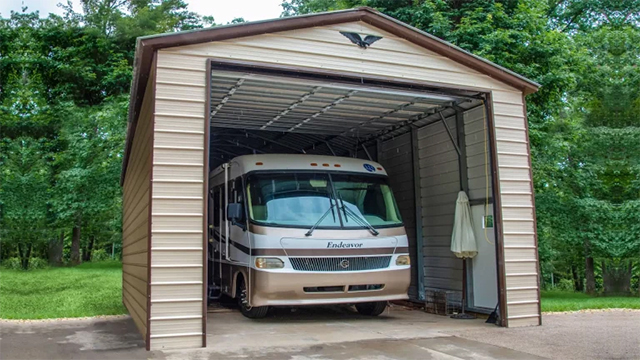 METAL GARAGE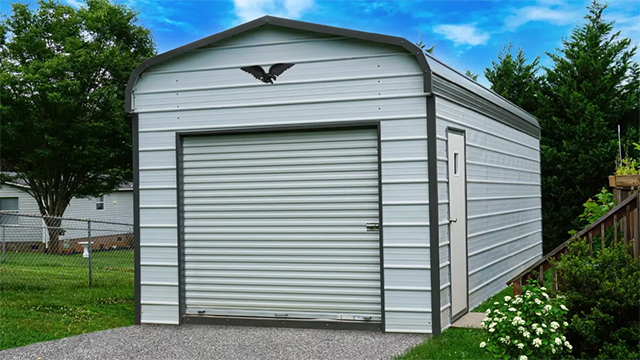 What is a Carport?
Carports are an alternative to complete garages. Carports are semi-covered metal structures that come with a metal or fabric roof. Garages are enclosed by walls, have entry doors, and a roof. Since metal carports have no sides but do have a roof, they are a cost-effective option to a full garage.
A Metal Carport is versatile and can be used in Hudson CO in several ways:
Cover and protection for large vehicles including cars, trucks, RVs, boats, machinery or farm equipment.
Store smaller vehicles such as ATVs, bicycles, jet skis, motorcycles, mowers, snowmobiles.
Provide shelter over decks, patios, play areas, or other outdoor spaces.
Serve as an outdoor workshop at your residence or business.
Space for DIY projects, repairs, or hobbies.
Metal carports are a popular option for people living in apartments or condos, trailer homes, or on tight properties with limited space. Metal carports can be anchored to homes providing an attached storage structure.
Businesses can utilize metal carports to provide sheltered parking, outdoor spaces and patios for customers, or additonal workspace for their business.
The Best Carport for You
How do you choose the right carport for the needs of your home or business? Our experts have all the answers to help you choose the best metal carport tailored to your specific needs and prefences with customizable options.
Metal carports include:
Concrete or rebar anchors for excellent structure stability.
90-day workmanship warranty.
20-year limited warranty on roofing materials.
Customizable options with 14 color choices.
Additional customizable features including designs, material options, and accessories.
You can see the floor plan and design prior to purchasing, eliminating any problems and ensuring that you receive precisely what you envisioned.
Options for financing, rent-to-own, and payment on delivery financial solutions.
Carport Warranty
1. Workmanship is guaranteed for 90 days after installation.
2. Painted sheet metal on all units are warrantied for 20 years against peeling, cracking, blistering, flaking, splitting or delamination on panels, assuming normal user care and maintenance (keeping clean of fallen leaves and other such debris as well as cleaning every [6] months). In the event the damage as set out above occurs within 20 years from installation, Seller has the right to repair or replace the damage, solely at Seller's option.
3. ANY alterations, by anyone other than Subcontractor approved by Seller, VOIDS ALL WARRANTIES on the purchased unit.
4. Eagle Carports, Inc. is not liable for any damages as a result of inclement weather.
5. Any building with a regular style roof and or a boxed eve style roof longer than 31 foot is not covered under the 20 year limited warranty as set out above. Buyer specifically waives WARRANTY OF MERCHANTABILITY on buildings with boxed eve or regular style roof, 31 foot or longer.
Buyer understands and agrees that by declining a vertical roof on any building which is longer than 31 foot, the building will NOT have the 20 year warranty described in paragraph 2. Any building 31 foot and longer without a vertical roof, has a 30 day workmanship warranty and no other warranties. The WARRANTY OF MERCHANTABILITY on any building 31 foot without a vertical roof is specifically waived.
Contact, Map & Directions